ACCELERATING SOCIAL CHANGE
SERVICES
Focused  on the talent of nonprofits, associations, and funders, Good Insight advances racial, economic, and gender equality. Our work is furthered by our belief that leaders accelerate social change. 
Founded in 2013, Good Insight started as a consulting firm for nonprofits and grantmakers. In 2018, we responded to the need for equity-framed nonprofit leadership transition services and brought an experienced organizational development approach to all client engagements. 
We approach leadership transitions as an opportunity to reflect on your key priorities, strengthen relationships, and energize your team and supporters. Our frameworks, tools, networks, and  fresh perspective allows you to gain clarity around strategies, staffing, and your future as an organization.
Retained search services to place senior executives, including CEOs, EDs, VPs, C-suite, and others. We work with clients on an exclusive basis on full-cycle recruiting with placement guarantees.
LEARN MORE
Talent consulting for mid- and senior-roles with sliding-scale and hourly-rate services. Projects are designed to boost HR capacity for small and mid-sized nonprofits.
LEARN MORE
OUR COMMITMENT TO RACIAL JUSTICE
LEADERSHIP TRANSITIONS ARE A TOOL FOR RACIAL JUSTICE.
Good Insight is building an antiracist consulting practice that goes beyond "diversity, equity, and inclusion" to create an approach that addresses the systemic barriers to career advancement for leaders of color.
We operationalize our approach in various ways, including robust committee training to disrupt bias and discriminatory hiring practices, structured skills-based interviews and rubrics, competitive compensation research, and salary transparency through our commitment to addressing racial and gender wage disparities.
OUR COMMITMENT
A TRACK RECORD OF SUCCESS
 We are proud to work towards changing the demographic composition of the nonprofit sector through our recruiting efforts. We track metrics to learn from our progress (updated December, 2022).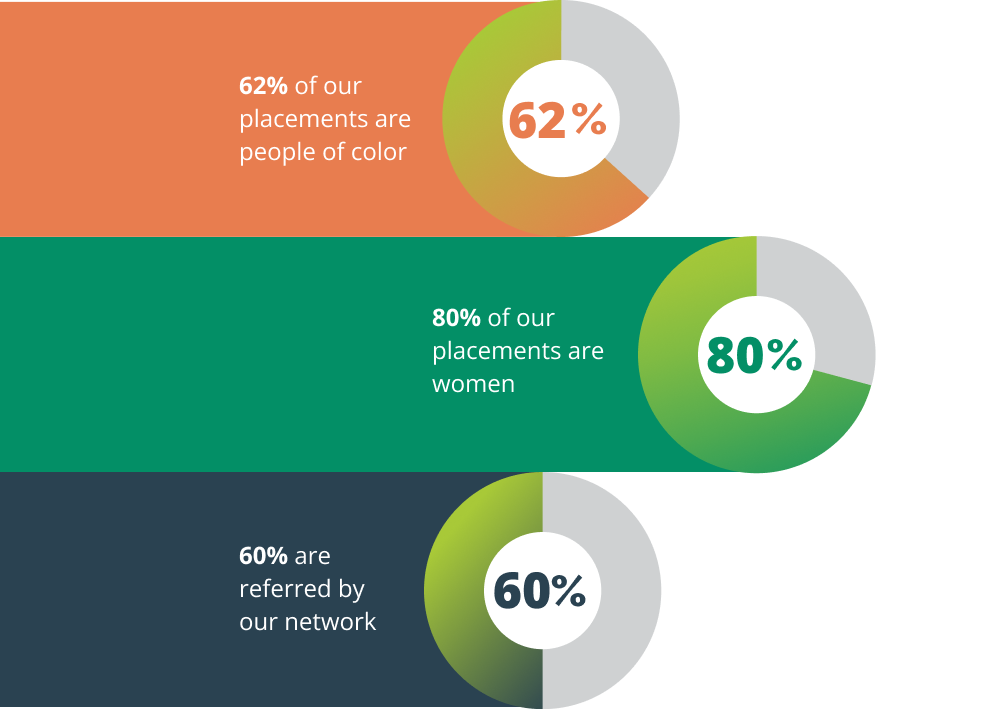 ACCESSIBILITY
We take on a limited number of engagements each year, so we can focus on our top priority: Our clients. Every search is led by a senior member of our team.
AFFORDABILITY
Our affordable fixed fee ensures that you can stick to your budget and trust you have the right candidate — not the most expensive.
AUTHENTICITY
A successful match happens when clients and candidates show up as their true selves. We highlight what's best about you, and give you clarity on challenges ahead.