LEADERS THAT ACCELERATE SOCIAL CHANGE
EXECUTIVE SEARCH
Good Insight is a woman-owned company committed to advancing racial, economic, and gender equality. We are a caring and expert partner committed to ensuring you are positioned to attract the right leader to take your organization to the next level.
With values rooted in kindness, respect, and authenticity. We approach leadership transitions as an opportunity to reflect on your key priorities, strengthen relationships, and energize your team and supporters. Our frameworks, tools, networks, and a fresh perspective to gain clarity around strategies, staffing, and your future as an organization.
OUR COMMITMENT TO RACIAL JUSTICE
LEADERSHIP TRANSITIONS ARE A TOOL FOR RACIAL JUSTICE.
Good Insight is building an antiracist executive search practice that goes beyond "diversity, equity, and inclusion" to create an approach that addresses the systemic barriers to advancement for leaders of color.
OUR COMMITMENT
A TRACK RECORD OF SUCCESS
We are proud that we are changing the demographic composition of the nonprofit sector through our recruiting efforts. Here are a few recent statistics to share our progress (updated December, 2021).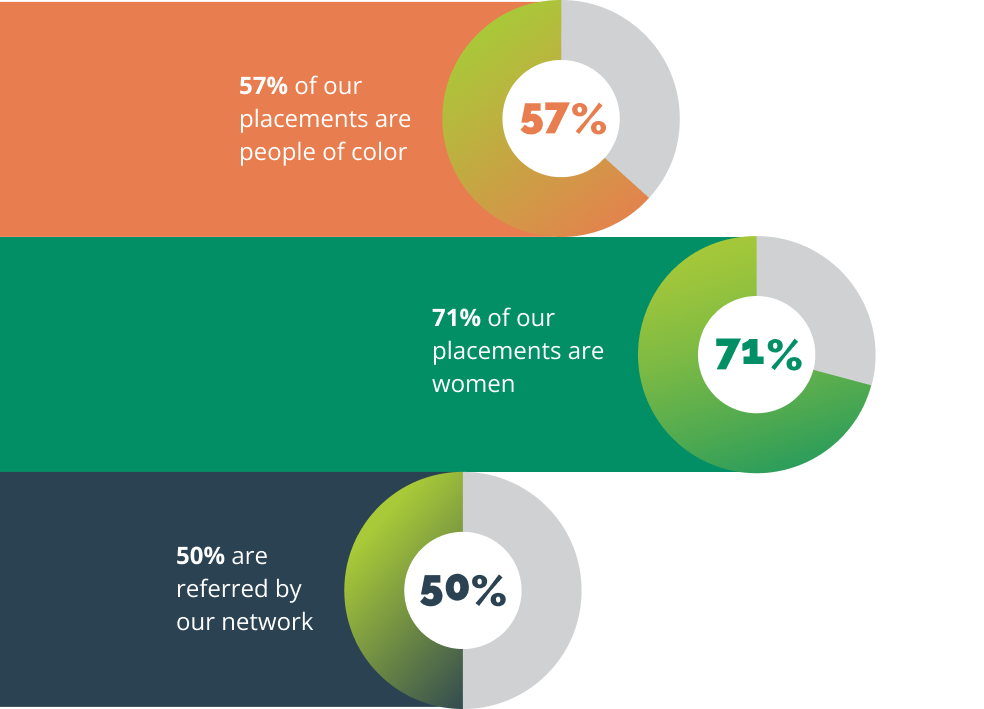 A new hire gives you a chance to reflect on what's working now and what you need to prioritize for the future. Your organization is dynamic and the skills that got you here are likely different than what you need next.
With decades of experience as nonprofit consultants, coaches, and senior leaders, our executive search team brings vast experience in and networks across a wide range of issue areas, budget sizes, and organizational types. We are not headhunters — we are organizational development experts who help you identify the talent you need to move your mission forward.
OPEN SEARCHES
The Good Insight way is our investment in understanding your culture, vision, and challenges on the horizon. Our robust discovery process helps your team build consensus about your priorities, and allows us to develop tailored recruitment strategies responsive to your unique context and needs.
We kick off with a discovery process to understand the opportunities and challenges for the incoming executive. We center staff and community perspectives to ensure the people most impacted by a transition have a voice in the process.
Each recruitment strategy is unique and reflects our client's needs — we don't recycle old search lists. Good Insight leverages a number of resources to recruit candidates, including job boards, LinkedIn, affinity groups, and referrals.
Our equitable hiring practices focus on the candidate experience while minimizing bias through committee training, structured behavioral interview questions, and strong evaluation processes.

A great candidate deserves a smooth transition. Good Insight helps our clients negotiate offers and guide key staff through an onboarding plan to prepare for their first 90 days. We offer 30-60-90 day coaching for incoming executives and their boards.

ACCESSIBILITY
We take on a limited number of engagements each year, so we can focus on our top priority: Our clients. Every search is led by a senior member of our team.
AFFORDABILITY
We charge an affordable fixed fee rather than a percentage of salary. You can stick to your budget and trust you have the right candidate — not the most expensive.
AUTHENTICITY
A successful match happens when clients and candidates show up as their true selves. Our job is to highlight what's best about you, and help you be clear about the challenges ahead.